Tom Collins, PT OCS
Education
Tom received his Master of Physical Therapy from the University of Puget Sound in 1996.
Prior to this he earned his Bachelor of Science in Aeronautics Operations with a minor in Business Administration from San Jose Univrsity in 1986.
Professional Memberships
American Physical Therapy Association (APTA)
Physical Therapy Association of Washington (PTWA)
Certifications and Specialized Training
Orthopedic Clinical Specialist (OCS) of the APTA
McKenzie Method of Mechanical Diagnosis and Treatment of the Spine
NAIOMPT Level III coursework
Manual Therapy
SFMA and FMS certified
Personal Information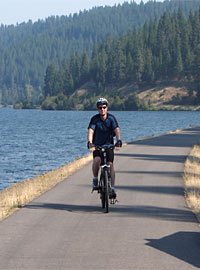 My first nine years of work as a Physical Therapist were at the Seattle Veterans Administration Hospital. This experience included rotations through a variety of medical settings including acute inpatient, spinal cord rehabilitation, and then seven years on the outpatient orthopedic team. In this setting I was appointed to the lead therapist position of the outpatient department. Since 2005 I have been working in outpatient clinics, with focus of care being the blending of manual and exercise therapy along with patient education and home exercise. In 2008, I started my own business providing per diem physical therapy and worked in a variety of local outpatient clinics before accepting a position with Sound Physical Therapy in 2011. During my career, I have completed a broad spectrum of continuing clinical education including certification in McKenzie Method of Mechanical Diagnosis and Treatment of the Spine, and completion of North American Institute of Manual Therapy coursework through Level III. I am also a certified Orthopedic Clinical Specialist (OCS) through the American Physical Therapy Association. Personal interests include a wide variety of traditional and outdoor recreational sports, as well as international traveling. Past adventures include a transcontinental bicycle ride through the US and Canada, a 6 week trek in the Nepalese Himalaya, a 100 mile backpacking trip in Patagonia, tour of New Zealand and climbs of multiple Cascade volcanoes. In addition to working in West Seattle, my wife and I own a home here and find this a wonderful community to be a part of.
Philosophy of Care
Education is perhaps the most powerful tool we have to empower our patients to get better and manage their symptoms. I feel it is critical for my clients to understand why we are doing what we are doing. My role is to listen carefully, acknowledge concerns, answer questions and customize a treatment plan to help each individual meet their goals. My hope is to make each appointment a valuable experience for each of my clients. At Sound Physical Therapy I am able to fully apply these principals by spending a full hour, one-on-one each session, which was a strong motivation for me to join their team.
return to Physical Therapy Staff page