Christopher Seiji Rogers, DPT
Education
Christopher received his Doctorate of Physical Therapy from Texas State University in 2011. Prior to this he earned his Bachelor of Arts in Anthropology from University of Texas at Austin in 2007.
Professional Memberships
American Physical Therapy Association (APTA)
Physical Therapy Association of Washington (PTWA)
Texas Physical Therapy Association (TPTA)
Certification and Specialization
Manual Therapy
Biomechanical Analysis
McKenzie, Maitland and Sahrmann based treatment approaches
Personal Information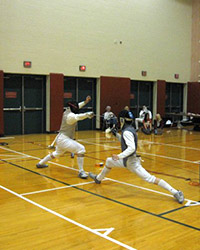 My first experiences in physical therapy came as a patient. With the childhood nickname of "Crash" and a history of scoliosis, physical therapists played a crucial role in making me the functional and healthy person I am today. Throughout my schooling and after graduating I developed an interest in orthopedic rehabilitation with experiences working primarily in spinal rehabilitation, work related injuries, athletic performance, disability assessment, and a variety of musculoskeletal injuries and impairments. As I expand my areas of practice I have been investigating a variety of approaches and specializations available to me through continuing education, seminars, and from excellent colleagues sharing their knowledge. I am interested in continuing my specialization in Selective Functional Movement Assessment as well as with the Postural Restoration Institute.
One of my favorite personal interests is fencing, which I have practiced and loved for 16 years. In college my notable achievements include winning the national USA CFC (collegiate fencing championships) and the Poujardieu Memorial, as well as earning my "A" rating in fencing (it's like a black belt). Other interests include yoga, dancing, guitar, Japanese culture, cooking, reading, and very recently I have taken up writing. I am currently working on a novel when I am not pursuing one of my other interests. I am new to the Northwest, hailing all the way from Austin, TX and I am loving all the sights, sounds and activities that Seattle has to offer.
Philosophy of Care
I approach each patient individually and I will do whatever it takes to make you better. Physical therapists develop areas of specialty care and expertise, knowing that patients don't always neatly fit into categories or diagnoses. My hope is to never get pigeon holed into one particular mindset of treatment for my patients and to continually grow and learn from each person that walks in the door.
return to Physical Therapy Staff page