Chris Zang, PT ATC
Education
Chris received his degree in Physical Therapy from the Medical University of South Carolina in 1987.
Prior to this he earned his Bachelor of Science in Secondary Education with an Emphasis in Athletic Training from West Virginia University in 1985.
Professional Memberships
American Physical Therapy Association (APTA)
Physical Therapy Association of Washington (PTWA)
National Athletic Trainer's Association (NATA)
Certification and Specialized Training
Certified Athletic Trainer (ATC)
North American Institute of Orthopedic Manual Therapy Level III coursework
Certificate of Strength and Conditioning Specialist (CSCS) earned
Biomechanical analysis
Manual therapy
Athletic performance
SFMA and FMS certified
Personal Information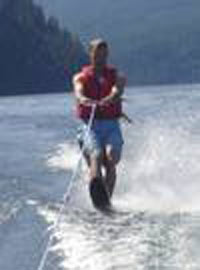 I have over 20 years of experience treating patients in an outpatient setting. During this time I have been able to focus my attention on a variety of musculoskeletal areas. Studying the parts to see the whole allows me to create treatment plans that are specific to each individual.
I initially worked at Loyola College of Maryland (Baltimore) splitting time between Physical Therapy and athletic training duties. I was introduced to the Pacific Northwest when I volunteered for the Goodwill Games in 1990 and I moved to Seattle in 1992.
My post graduate continuing education has pursued shoulder girdle biomechanics as related to throwing and overhead sports, lower extremity biomechanical analysis, lumbo-pelvic stabilization, strength and agility training, and orthotic prescription. I have also completed the Level III coursework with North American Institute of Orthopedic Manual Therapy, and I have been a Certified Strength and Conditioning Specialist by the National Strength and Conditioning Association.
I am married with three children. For over 15 years I was involved in the youth soccer programs by coaching, consulting for speed and agility training and injury care. I enjoy cycling, hiking, camping, and consistently working out.
I am a co-owner of Sound Physical Therapy
Philosophy of Care
Our body and brain uses strengths and familiar patterns of movement while avoiding stiffness and pain. It is my job to help each patient balance their strengths and weakness in order to move more efficiently for long term use of their body.
return to Physical Therapy Staff page