Alicia Chunn, PT ATC
Education
Alicia received her Master of Physical Therapy from the University of St. Augustine in 2000.
Prior to this she earned her Bachelor of Science in Exercise and Sport Science as well as her certification as an athletic trainer (ATC) from the University of Florida in 1997.
Professional Memberships and professional interests
American Physical Therapy Association (APTA)
Physical Therapy Association of Washington (PTWA)
National Athletic Trainer's Association (NATA)
Certification and Specialized Training
Certified Athletic Trainer
Manual Therapy
Personal Information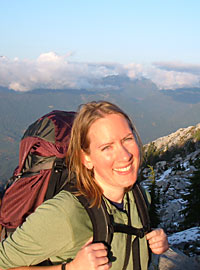 An early influence on my decision towards becoming a physical therapist came at the age of seven, when I watched my younger cousin being treated for Juvenile Rheumatoid Arthritis in a heated pool. As a young child, I think I appreciated this PT's efforts to help my cousin feel better and to allow her to participate in normal activities. Now I aim at educating and encouraging my patients to take control of their health in order to achieve their functional goals.
I enjoy serving at my local church, hiking, kayaking, and camping in my free time. In addition, I am a two time finisher of the Chicago Marathon and have backpacked extensively on the Appalachian Trail. In 2008 I worked a summer season as a Park Ranger in Alaska's Denali National Park, and currently I am enjoying being a part of the community in beautiful West Seattle with my husband and two children.
Philosophy of Care
My treatment philosophy involves looking at the whole individual, from structural alignment, postural habits, musculoskeletal changes, personality, and general health.
return to Physical Therapy Staff page