Nicole Sarles, DPT
(she / her)
Education
Nicole received her Doctorate of Physical Therapy from the University of Puget Sound in Tacoma in 2022.
She previously earned her Bachelor of Arts in Psychology at The University of Texas at Austin in 2012.
Professional Memberships
American Physical Therapy Association (APTA)

Physical Therapy Association of Washington (PTWA)
Certification and Specialized Training
Rock Climbing Injuries (Can Make Pulley Protection Splints)

Blood Flow Restriction Training

Manual Therapy

Knee Injuries & Post Ops Particularly ACL Tears/Reconstructions, MCL and Meniscus Repairs

Shoulder Injuries & Post Ops
Personal Information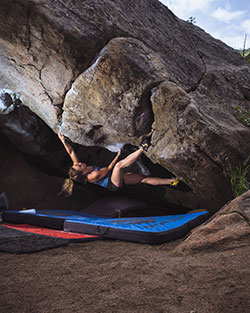 Nicole was born and raised in Texas and relocated to Seattle in 2016. She has experience working with a variety of patient populations including outpatient orthopedics, inpatient and outpatient neurological conditions and lower limb amputees. Prior to her career she developed an interest in physical therapy for rock climbers as she struggled to find her own medical providers familiar with the sport. She has competed in rock climbing both at a collegiate and open level and has experienced many injuries from rock climbing including 2 recent ACL reconstructions, 1 MCL & meniscus repair and 1 shoulder labral repair. She is pursuing both rock climbing and knee injuries as an area of expertise.
Nicole enjoys outdoor rock climbing, hiking, weaving, painting, spending time with family and friends, and traveling to new countries with her husband. She began her relationship with Sound Physical Therapy as a patient prior to graduating from her physical therapy program and can speak highly of the care she received. She is happy to be a part of the Sound Physical Therapy family and enjoys giving back to the community as a provider.
Philosophy of Care
Her goal is to provide individualized treatment with up to date evidence-based practice including manual therapy, exercise and patient education. She provides her patients with a thorough education to help them understand their current issue and to better help themselves. She is a well versed physical therapy patient and understands the importance of incorporating the mental aspect of an injury into rehabilitation. She has a particular love for helping patients return to doing the activities that make them happy.
return to Physical Therapy Staff page