Trish Kimbell, DPT
Education
Trish Received her Doctor of Physical Therapy (DPT) degree in 2013 from the University of Washington.
Prior to that, she received her Bachelor of Arts degree in Politics from Willamette University in 2000.
Professional Memberships and professional interests
American Physical Therapy Association (APTA)
Physical Therapy Association of Washington (PTWA)
Certification and Specialized Training
Personal Information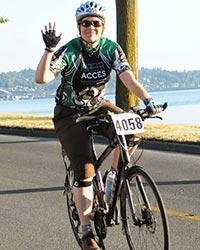 As a teenager, I tore my ACL and meniscus after a downhill skiing accident and spent many months in physical therapy. For several years after college, I traveled around the world with the Missoula Children's Theatre performing in and directing plays. When I decided to trade in the life of a wandering performer, I remembered the surprisingly enjoyable experience I had as a PT patient and decided to make it my career. I am an avid cyclist, often commuting to work by bike and going on long weekend rides; I have ridden the Seattle-to-Portland charity ride multiple times as both a participant and volunteer support rider. I also enjoy group exercise classes, yoga, eating at the amazing restaurants in Seattle, going to Sounders games with my husband, and lavishing affection on my two cats.
Philosophy of Care
My background as an educator informs my philosophy towards patients. I believe when people know why they should be moving in a certain way they are more likely to benefit from therapy and feel empowered to continue to improve outside of the clinic. I want my patients to feel they can find a way to make healthy movement a regular and rewarding part of their lives.
return to Physical Therapy Staff page