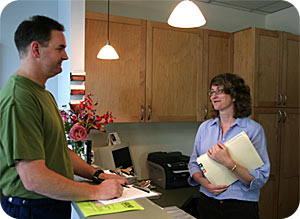 Thank you for choosing Sound Physical Therapy for your rehab care. We look forward to working with you and want you to have a positive experience in physical therapy.
Scheduled appointments start at the beginning of each hour and are 55 minutes long. You will spend each treatment 1:1 with your physical therapist. We find it is best if you are treated by the same therapist at each session. To achieve this goal, when you call to schedule your first appointment you will be asked to schedule for 3-4 weeks of appointments. Our schedules are generally quite full, and we ask you to schedule in advance so that your care is not interrupted.
To schedule your first or follow up appointments please call: 206-301-0600.
Hours: Monday – Thursday 7:00 am to 7:00 pm
Friday 7:00 am to 6:00 pm
Your First Visit
Please arrive 15 minutes before your scheduled appointment time. You can complete the patient paperwork at this time. If you prefer you can download your paperwork and bring the completed forms with you or fax them in advance. If the paperwork is complete in advance plan to arrive 5 minutes prior to your appointment. Arriving early gives our front office time to put together your chart, collect your co-pay and answer questions you many have and still start your appointment on time.
Bring:
Paperwork
Insurance card
Photo ID
Current Doctor prescription
Claim number or pre-authorization form if needed
Co-pay (if applicable) – check or cash, sorry no credit cards
Comfortable clothing as noted below:
For low back or leg problems please bring shorts and a t-shirt are needed. Stretch pants may suffice for follow up appointments..
For females with a back, neck and/or arm problem please bring shorts and a top with an open back (halter, bathing suit, etc.) Note that a sport back jog bra obscures viewing of the shoulder blades and is not recommended.
Treatments are conducted in either a private room and/or the open area based on your treatment needs.
Return Patients
We welcome our return patients. If it has been more than three months since your last appointment you will need to complete a registration packet.
Late Cancel and No Show Policy
Sound Physical Therapy makes every effort to meet our patient's needs. Should you need to cancel an appointment, with advance notice, we are able to offer your appointment time to another patient.
In order to meet the needs of our community, we require your cancellation notification by 2 pm the business day before your appointment.
In the event of a missed appointment or late cancellation, we charge a $50 fee.
Insurance Information
The ever-changing world of insurance benefits can be a confusing topic. Sound Physical Therapy's goal is to keep you as informed as possible regarding your insurance situation. For further information link to the Insurance page.
Our office staff
Front Desk Coordinator: Tawan Sornsap
Front Desk Staff: Aislyn Crane
Front Desk Staff: Julia Nark